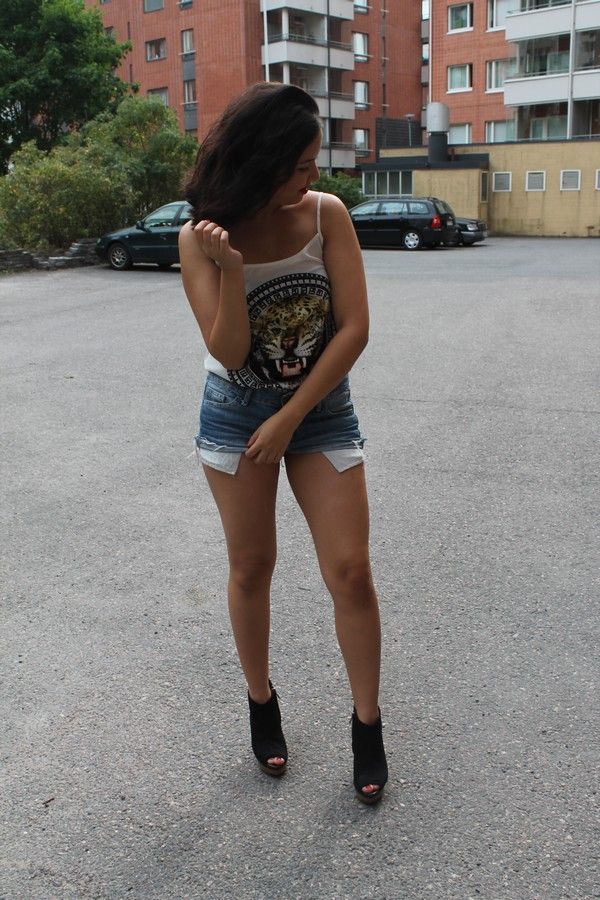 Remember how in
this
and
this
post I talked about cutting my hair short
(and maybe some other post too, I talked about it a lot...)
? Well, graduation is over and it was finally time to do it instead of resisting the urge to grab a pair of scissors - a giftcard to a hair dresser gotten from my lovely friends as a graduation gift did a huge favor as well!
I've been craving for a long bob for over six months now, and you guys have no idea how absolutely free I feel now, especially in this heat! The giftcard also included hair dye, but I was really clueless on what I wanted. With the advice of my amazing hairdresser we did some really light brown highlights underneath, which can be seen especially with curls and don't leave roots when they start to grow. I am so happy with my hair right now!
I know a lot of girls with long hair want to cut their hair but are always so afraid since the growing process has been so long, but I personally never really could relate to that since my hair grows really fast. Two months from now I probably have some length already, would not be surprised! With this post I want to inspire and encourage girls to go for their dream hair - after all it's just hair, and it will grow back.
So no stress and just do it!
What do you guys think about my new hair?
Muistatteko, kuinka puhuin tässä ja tässä postauksessa hiusteni leikkaamisesta lyhyeksi

(ja ehkä jossain muissakin postauksissa, puhuin siitä paljon...)

? No, yloppilasjuhlat ovat ohi ja oli vihdoin aika tarttua toimeen saksien epätoivoisen vastustamisen sijasta - yo-lahjaksi saatu kampaamolahjakortti rakkailta ystäviltä edesauttoi kyllä kovasti!
Olen haaveillut ja himoinnut pitkää polkkaa jo yli puoli vuotta, ja te ette edes tiedä kuinka vapaalta minusta tuntuu nyt, varsinkin näillä helteillä! Lahjakorttiin sisältyi vielä värjäys, mutta olin täysin ulapalla siitä mitä halusin tehdä. Ihanan kampaajan suosituksilla minulle tehtiin vaaleanruskeita raitoja alle, mitä näkyvät nätisti etenkin hiuksia kihartaessa eivätkä jätä juurikasvua kasvaessaan. Olen niin tyytyväinen hiuksiini nyt!
Tiedän, että monet tytöt joilla on pitkät hiukset eivät uskalla leikata huksiaan pitkän kasvatusprosessin jälkeen, mutta itse en ole oikein koskaan pystynyt samaistumaan tuohon pelkoon sillä hiukseni kasvavat todella nopeasti. Kahden kuukauden päästä mulla on jo varmaan muutama lisäsentti hiuksissa, en olisi yhtään yllättynyt! Tällä postauksella haluan inspiroida ja toivottavasti myös rohkaista tyttöjä leikkaamaan ne unelmiensa hiukset - loppuje lopuksi ne ovat vain hiukset, ja hiukset kasvavat takaisin.
Joten älkää stressatko ja just do it!
Mitä mieltä siellä ollaan uusista hiuksistani?