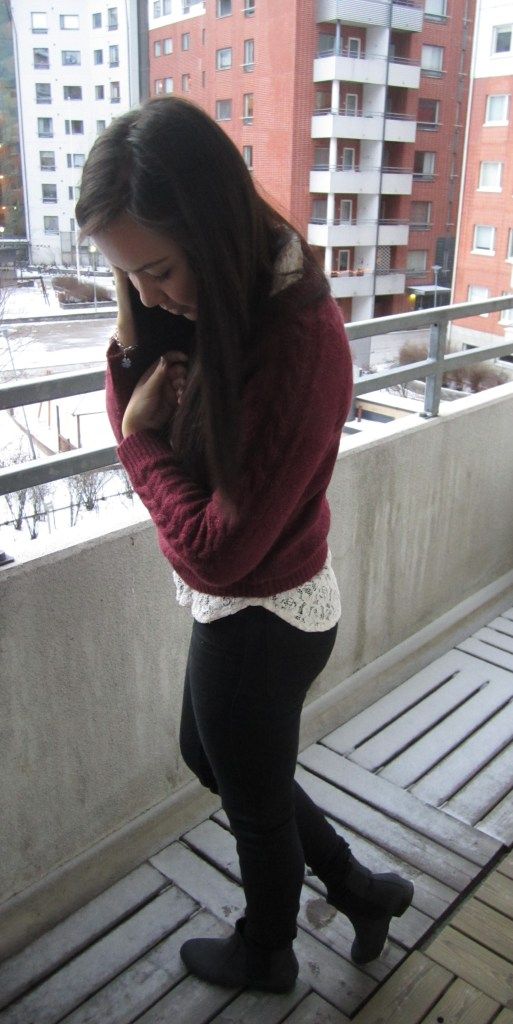 lace shirt & jeans
Gina Tricot
sweater & boots
H&M
bracelet
Thomas Sabo
Some outfit photos my dad took this morning before I ran off to school. I have no idea why I'm so much smaller in the first picture, I guess my dad had time to move before I switched positions.
I liked my outfit otherwise, but I must confess one thing: I really don't like sweaters!
I like how they look and how soft they are, but I can't help but feeling suffocated whenever I'm wearing one, especially with an all-buttoned shirt. You can only imagine how fast I changed when I got home...it's funny how much people are ready to cope with in order to look good.
As you can see from the photos, snow has finally landed (again...)! I am so happy, hopefully there will be much more to come before Christmas - nothing better than a White Christmas.
Regardless of my issues with comfortability, what do you guys think about the outfit?
Muutama isäni ottama asukuva tältä aamulta ennen kuin kiirehdin kouluun. En tiedä yhtään miksi olen niin paljon pienempi ensimmäisessä kuvassa, ehkä isäni vaihtoi paikkaa sillä välin kun itse vaihdoin asentoa.
Pidin päivän asustani muuten, mutta tähän väliin täytyy tunnustaa eräs asia: en oikeastaan pidä neuleista!
Pidän siitä, miltä neuleet näyttävät ja siitä miten pehmeitä ne ovat, mutta en voi sietää sitä kiristävää ja tukehduttavaa tunnetta mikä mulla on niitä käyttäessä, varsinkin tänään ylös asti napitetun paidan kanssa. Voitte vain kuvitella miten nopeasti vaihdoin asua heti kun pääsin kotiin...on hassua, miten paljon ihmiset ovat valmiita kestämään ulkonäön vuoksi.
Ja kuten kuvista saattaakin huomata, lumi on vihdoinkin laskenut (taas...)! Olen niin tyytyväinen, toivottavasti lisää on tulossa vielä ennen joulua - ei ole mitään parempaa kuin valkoinen joulu.
Mitä mieltä siellä ollaan asusta?